Originally posted by
con_failed at http://con-failed.livejournal.com/821956.html

Сегодня очень важный для меня день.

Я принимала в нашем офисе Google в Москве господина Резу Саджади
sajjadi - Чрезвычайного и Полномочного Посла Ирана в России.

Господин Посол любезно согласился выступить перед моими коллегами с рассказом о современном Иране и ответить на наши вопросы. В частности мы интересовались социально-политической обстановкой в Иране, положением женщин в стране, технологическим прогрессом, возможностям туризма в Иран и его видением ситуации на Востоке на ближайшую перспективу. Реза пригласил нас всех посетить Иран и обещал, что мы будем приятно удивлены тем, что увидим там.

Господин Саджади - невероятно приятный собеседник. Я и мои коллеги получили огромное удовольствие от общения! С нетерпением жду моей поездки в Иран, чтобы поближе познакомиться с современной Персией.

Я с розовым бантом :-)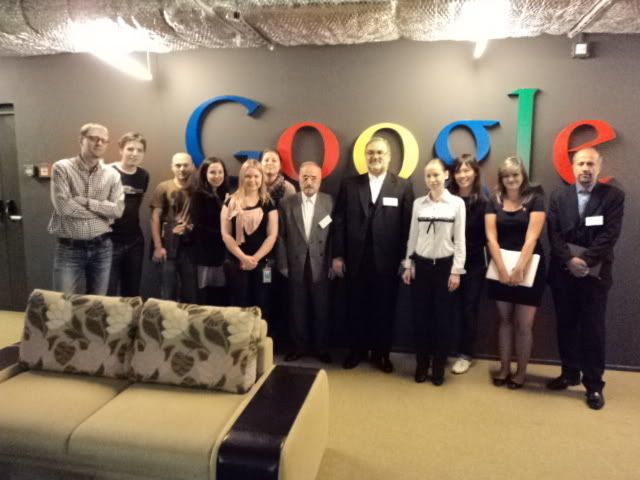 I'm writing this part in English so that Mr. Sajjadi could read it.
Today is a very important day for me.

I hosted The Extraordinary and Plenipotentiary Ambassador of Iran in Russia - Mr. Reza Sajjadi.

Mr Sajjadi kindly accepted my invitation and spent an hour of his time in a dialog with my colleagues from Google. In particular we were interested in a social an political life of Iran, the status of women there, technologies, opportunities of tourism to Iran and his vision of the situation in the Middle East in the nearest future. Mr Sajjadi kindly invited us to visit Iran and promised that we would be pleasantly surprised with what we see there.

Mr Sajjadi appeared to be a very nice and pleasant person. My colleagues and I had a great pleasure in talking to Reza. I'm looking forward to go to modern Persia to see it's beauties and to get better understanding of its culture.